Vaccines in Your Salad
~*~*~*~*~*~*~*~*~*~*~*~*~*~*~*¬~*~*~*~*~*~*~*~*~*~*~*~*~*~*~*
Copyright Disclaimer Under Section 107 of the Copyright Act 1976, allowance is made for "fair use" for purposes such as criticism, comment, news reporting, teaching, scholarship, and research. Fair use is a use permitted by copyright statute that might otherwise be infringing. Non-profit, educational or personal use tips the balance in favor of fair use.
.
I missed my chance to become a research scientist in genetics when they brain-damaged my babies with their baby shots in the 1970s. A beloved professor went behind my back in 1976 and set the whole thing up for me. He hustled me into his office with a sly grin and told me his marvelous news. With a huge smile slashing his face, he said,
"You're going to medical school!!!"
[And this man didn't smile a lot…]
My heart plummeted as I declined, knowing full well I could never leave my bonkers toddler. He came first and he always would. There was no question as to my answer.
I thought Professor Blumankrantz was going to have a heart attack or at least faint as I gave him my answer.
But I have to admit there's a tickle in my stomach as I look at this research. As a prodigy, I had buried myself in genetic studies in preparation for my chosen career.
But I always knew [unlike some of these kiddie scientists with their pails and shovels in sandboxes] that The Domino effect would and will always have to be acknowledged.
.
.
Notice the reaction from readers. I bet Bill and his wife and scientists who won't have to eat this stuff make up the 2%.
.
.
Grant enables study of plants as mRNA factories
SEPTEMBER 16TH, 2021

AUTHOR: JULES BERNSTEIN September 16, 2021
The future of vaccines may look more like eating a salad than getting a shot in the arm. UC Riverside scientists are studying whether they can turn edible plants like lettuce into mRNA vaccine factories.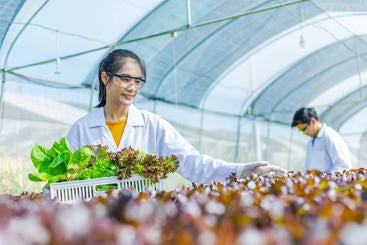 Messenger RNA or mRNA technology, used in COVID-19 vaccines, works by teaching our cells to recognize and protect us against infectious diseases.
One of the challenges with this new technology is that it must be kept cold to maintain stability during transport and storage. If this new project is successful, plant-based mRNA vaccines — which can be eaten — could overcome this challenge with the ability to be stored at room temperature.
The project's goals, made possible by a $500,000 grant from the National Science Foundation, are threefold: showing that DNA containing the mRNA vaccines can be successfully delivered into the part of plant cells where it will replicate, demonstrating the plants can produce enough mRNA to rival a traditional shot, and finally, determining the right dosage.
"Ideally, a single plant would produce enough mRNA to vaccinate a single person," said Juan Pablo Giraldo, an associate professor in UCR's Department of Botany and Plant Sciences who is leading the research, done in collaboration with scientists from UC San Diego and Carnegie Mellon University.
"We are testing this approach with spinach and lettuce and have long-term goals of people growing it in their own gardens," Giraldo said. "Farmers could also eventually grow entire fields of it."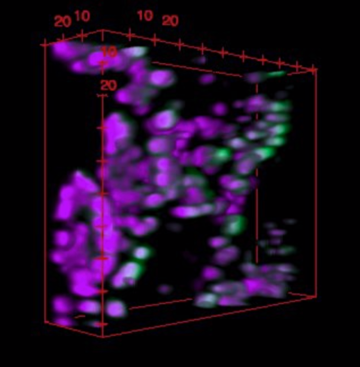 Key to making this work are chloroplasts — small organs in plant cells that convert sunlight into energy the plant can use. "They're tiny, solar-powered factories that produce sugar and other molecules which allow the plant to grow," Giraldo said. "They're also an untapped source for making desirable molecules."
In the past, Giraldo has shown that it is possible for chloroplasts to express genes that aren't naturally part of the plant. He and his colleagues did this by sending foreign genetic material into plant cells inside a protective casing. Determining the optimal properties of these casings for delivery into plant cells is a specialty of Giraldo's laboratory.
For this project Giraldo teamed up with Nicole Steinmetz, a UC San Diego professor of nanoengineering, to utilize nanotechnologies engineered by her team that will deliver genetic material to the chloroplasts.
"Our idea is to repurpose naturally occurring nanoparticles, namely plant viruses, for gene delivery to plants," Steinmetz said. "Some engineering goes into this to make the nanoparticles go to the chloroplasts and also to render them non-infectious toward the plants."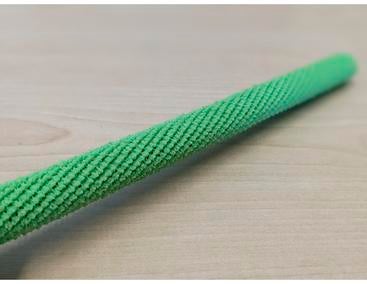 For Giraldo, the chance to develop this idea with mRNA is the culmination of a dream. "One of the reasons I started working in nanotechnology was so I could apply it to plants and create new technology solutions. Not just for food, but for high-value products as well, like pharmaceuticals," Giraldo said.
Giraldo is also co-leading a related project using nanomaterials to deliver nitrogen, a fertilizer, directly to chloroplasts, where plants need it most.
[Not to interrupt much, but the application of herbicides has destroyed bacteria that delivered nitrogen to plants over the eons. I cover how that is done very simply. Man has destroyed much of what evolution provided as we have descended into the depths of a nasty chemical world. As a matter of fact, the very organism that destroyed our nitrogen-delivering bacteria was a result of a genetic modification, too.
"The answer is herbicides. It's easier, cheaper, and more geared towards profit to modify plants so that the herbicides we use don't kill our crops. There are other reasons, but this is the main one.  The shikimic acid pathway is modified out of plants to allow the herbicide to kill only the weeds with them. Herbicides ingrain themselves into our food and are passed down in our cooking pots."
Source: Round 'em Up
Process verified by a top research scientist at MIT]
Unfortunately, our nitrogen-delivering bacteria have that same acid pathway. So the herbicides destroy them, too. Enter—The Domino Effect. This all sounds like a Monsanto project. They created the problem in the first place. Do they intend to sell us the solution to their pollution?]
Nitrogen is limited in the environment, but plants need it to grow. Most farmers apply nitrogen to the soil. As a result, roughly half of it ends up in groundwater, contaminating waterways, causing algae blooms, and interacting with other organisms. It also produces nitrous oxide, another pollutant.
This alternative approach would get nitrogen into the chloroplasts through the leaves and control its release, a much more efficient mode of application that could help farmers and improve the environment.
The National Science Foundation has granted Giraldo and his colleagues $1.6 million to develop this targeted nitrogen delivery technology.
"I'm very excited about all of this research," Giraldo said. "I think it could have a huge impact on peoples' lives."
.
Giraldo is teaming up with this person below
.
Professor, Nanoengineering, UC San Diego
.
We may as well showcase Juan Pablo Giraldo
.
.
And here's his research.
.
.
How he got where he is today. Hmmm Harvard. I wanted to go there as a child. I took a course at MIT, but had to drop out to care for my brain-damaged children.
.
Juan Pablo Giraldo
.
Did you notice NOBODY asked any of us if we wanted this to happen?
.
POSTED BY: CHRIS MALORE VIA STUDYFINDS SEPTEMBER 21, 2021
.
.
9/24/2021
.
~*~*~*~*~*~*~*~*~*~*~*~*~*~*~*¬~*~*~*~*~*~*~*~*~*~*~*~*~*~*~*
Copyright Disclaimer Under Section 107 of the Copyright Act 1976, allowance is made for "fair use" for purposes such as criticism, comment, news reporting, teaching, scholarship, and research. Fair use is a use permitted by copyright statute that might otherwise be infringing. Non-profit, educational or personal use tips the balance in favor of fair use.
Copyright September 2021 by Joyce Bowen
.
Click a link below to get your copy of The Nuremberg Code.
http://www.environmentandhumanrights.org/resources/Nuremberg%20Code.pdf
.
Nuremberg Code Video link
.
If you download The Nuremberg Code, understand you have to do something with it. Please e-mail these folks below:
.
It's actually time to stop talking and stop watching videos and signing useless petitions and do this:
It's time to get The Hague involved for violations of The Nuremberg Code and Crimes Against Humanity. Contact them here:
Submit communications to the
Office of the Prosecutor
Information and Evidence Unit
Office of the Prosecutor

Post Office Box 19519
2500 CM The Hague
The Netherlands
otp.informationdesk@icc-cpi.int
Fax +31 70 515 8555
.
Trying individuals for genocide, war crimes, crimes against humanity, and aggression
Contact us
Communications and claims under art.15 of the Rome Statute may be addressed to:
Information and Evidence Unit
Office of the Prosecutor
Post Office Box 19519
2500 CM The Hague
The Netherlands
or sent by email to otp.informationdesk@icc-cpi.int
or sent by facsimile to +31 70 515 8555.
The more of us who do this; the more they can't ignore us.